We have been granted the use of Society Of London Theatre & UK Theatre's 'See It Safely' mark and Visit Britain's 'We're Good To Go' mark.
These marks certify that we are complying with the latest Government and industry COVID-19 guidelines, to ensure the safety of our staff and audiences.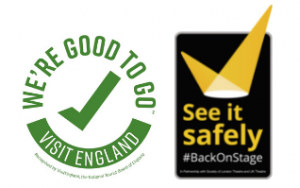 We've been working really hard to ensure that your next visit to the Queen's Theatre Barnstaple and The Landmark Ilfracombe is a safe and reassuring experience.
It is vital that all those attending the theatres play their part in making each visit safe and enjoyable. To do this we need your continued support and co-operation. We therefore respectfully ask you to consider everyone at all times whilst in the theatre.
We have put in place a number of procedures to ensure your comfort and peace of mind during your visit including:
temperature checking equipment at the entrance for customer use on entering
the auditorium is cleaned using sanitising fogging
hand sanitizing stations are positioned around the venue
QR track and trace check-in code is available on display
Air circulation will be active during your visit
Face masks are mandatory indoors and our staff will be asking you to wear these during the duration of your visit
e-tickets in use, please have ready to view on your phone upon entering the auditorium.
We ask that you do not visit the theatre if;
You believe you have been infected with COVID-19.
You have experienced symptoms in the last 10 days.
You have been in close proximity to anyone who has experienced symptoms in the last 10 days.
You have been instructed to self-isolate.
If you have booked tickets and cannot attend but your performance is still taking place, we are happy to exchange your tickets for another performance or provide an account credit to use against a future visit.
If you have any queries regarding your tickets, please get in touch with the Box Office as soon as possible.
Conduct your own health assessment before coming to the venue, taking into account your own age, health conditions or vulnerabilities. If, in the days leading up to the show, you are considering cancelling your visit, please contact the Box Office as soon as possible so that we make your tickets available for purchase.
For answers to other FAQs, please refer to the See It Safely website here: https://officiallondontheatre.com/see-it-safely/